I haven't done one of these in a while, so here goes! We normally are old farts and stay home for New Year's Eve. I think it has been at least 7 or 8 years since I have gone out on the 31st. However, this year a good friend of ours was celebrating her 30th birthday at the same time. She rented out a local coffee shop/bistro for the night so that we could ring in the New Year with friends, food and champagne (sparkling juice for me, boo!). I couldn't resist getting a little dolled up for party.
The dilemma at 8 months into pregnancy is
what the heck is going to fit???
I tend not to gain much weight during pregnancy, so my pants and looser shirts still fit. And according to my friends and my husband, I am all belly. This makes my wardrobe options a little easier.
I started off with a maternity tank (the only maternity piece I wore) that is really just for the longer length/coverage that it provides. I paired those with black pre-pregnancy skinny jeans that were thankfully low rise and
barely
fit below the bump - a little over a month to go!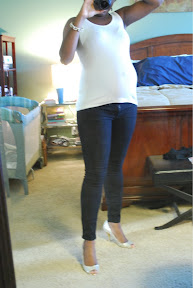 I finished the outfit with a J.Crew sequin tank top from 2010. Funny thing was, I was never able to wear this before because the fit was all weird, but it went perfectly under a black blazer for the evening. Side view...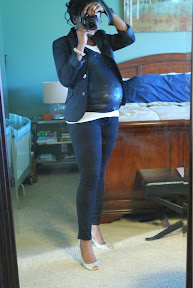 ...and front view.
United Colors of Benetton blazer
Liz Lange maternity tank
J.Crew sequin top and pave link bracelet
Old Navy black skinny jeans
Earrings from a local boutique
Nine West shoes
Since 2011 was the year almost without J.Crew (or any other decent clothes shopping, for that matter) I got this
little consolation prize
from J.Crew for Christmas from MrDrama. When nothing else fits, at least accessories do!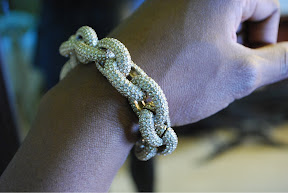 Sparkly fun heels. Yeah, I lasted about 15 minutes standing in these...
My new favorite earrings this year, black onyx and gold.
The party was fun and it felt so grown up to be out with friends without kids in tow. But I know I am old when I am yawning by 11:30 pm, wishing I wasn't in Central Standard Time, so I could be home already in my bathrobe. If my 23 year old self could see me now...
How was your New Year's? Any fun plans with friends? Or was it a quiet night at home? Chime in!