Yes, I am alive and no, I haven't wasted away from morning sickness yet. For those who care, I am still throwing up, but it has definitely diminished to about once every 10 days or so. Still spitting like a camel (attractive, I know) but it is either that or dry heave, so guess which one I picked? I am about 8 lbs up from pre-pregnancy weight and that is all belly (I only gained about 20 lbs with the Kid). My last ultrasound a few weeks ago showed that the Dude was growing right in track, so no worries...
My energy level is pretty good, but mobility as I enter the third trimester is rapidly declining. MrDrama keeps asking me if I am okay when he hears random grunts and groans and I respond, "no, just still pregnant!". And farty as all get out. Just keeping it real, folks.
After much
nagging
cajoling of MrDrama, we finally got the nursery painted the Benjamin Moore "Nightingale" color that I mentioned
earlier
. It makes such a difference in the room, that I actually go in there just to smile at the color on the walls. If you are looking for a great gray color, this is the way to go. And Benjamin Moore has an eternal customer in me for providing such great coverage with just one coat of paint! We had more than enough paint left over to tackle the guest bedroom as well.
I also decided to go with accents of yellow to bring in a happy, bright color to offset the darker furniture.
Here's the nursery in progress...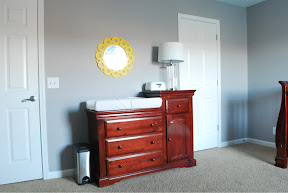 The mirror is from HomeGoods (naturally!) and was a silvery white color before I spray painted the frame yellow. The lamp is also a HomeGoods purchase.
Next on the list is to have a the custom linens sewn for the room (crib skirt, changing table cover, valance and pillows). I will post soon on those fabric choices. I also still need to order a new glider, find new hardware for the furniture and pick artwork for the walls. Getting this nursery painted made me realize how close we are getting to this little one being here. Yikes...